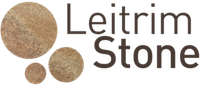 About Leitrim Stone
Suppliers of Architectural, Commercial, Building, Building Stone and Paving stone.
Leitrim Stone is a truly distinctive natural sandstone which makes it the first choice of builders and stonemasons. It is the Diamond of Sandstone in Ireland.  The unique blend of colour tones in the stone makes it distinct from other available natural stones. Its impressive physical and decorative properties make it uniquely suitable for both internal and external applications which gives your project that wow factor.
History & Background
Leitrim Stone was established in the early 1800 by the McManus Family.  In 1974 brothers Felix and Francis McManus started production at Cornacloy, Glenfarne, Co Leitrim.   In 2015 Ita and Francis McManus took over the company which is now one of Ireland's oldest and established suppliers of Natural Sandstone.
At our production site in Glenfarne stone is carefully prepared to the highest standards to ensure both our direct customers and suppliers receive our quality product which has no waste, easy to dress, ready to build, competitively priced all in a timely manner.
Your project is our business so consultation is vital to achieve a smooth and value-engineered project, large or small. We provide individual consultation and offer a good quality efficient service before and afterwards to all our customers.
Products in the Leitrim Sandstone range include:
Large stone slabs for sawing/sculpting

Building, paving & cladding stone

Dressed/semi-dressed, cladding & slabs
Customer satisfaction is paramount.
Natural Stone will have natural variations in colour and makings. Pictures and samples indicate the general colour, markings and textures usually found in the stone. Variations may occur.
Leitrim Stone is the Diamond of all Sandstone in Ireland
We gaurantee
No waste
Easy to dress
Unique colour and top class finish look which adds value to your home/building
Competitively priced
Reliable service in a timely manner
If you looking for a sandstone to add all of the above features to your project look no further than us  call us today 086 3774642
5 Reasons why to choose our product:
Do you want the Diamond of Natural Sandstone in Ireland

Do you want no waste, value for money, quick and reliable service

Do you want your finished project to be admired by everyone

Do you want your project to stand out in the crowd

If the answers are YES – call us today on 086 3774642